HEAT TRANSFER
Full-color high definition logos can be done economically, even in small quantities, with Custom Digital Transfers. Perfect for small runs, lightweight fabrics, and multi-color logos.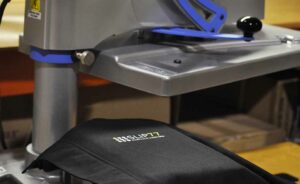 Storm Creek offers a variety of options for heat transfers. We work with a top digital transfer supplier in the business and provide several transfer products that complement our garments. We've tested transfers on each of our fabrics – rest assured, we'll recommend the right application for your project.
Heat transfers are a more advanced, higher quality "iron-on transfer." The actual transfer is created digitally, in sheets, and applied using regulated heat and pressure to bond, or seal, the graphics onto the fabric. The opaque materials stretch with your garment, making it appropriate for lightweight and woven ("slippery" or "smooth") fabrics. This is the most economical option, especially for smaller quantities.
View Heat Transfer Tips
Recommended Styles: Heat transfer is not an option for textured and knit fabrics. Each garment has specific deco options listed with the description.
Heat transfer tips
This method can accommodate logos with finer details and smaller text better than embroidery.
Transfers are available in many different finishes, we will recommend the right one(s) for your selected garment.
Full color and PMS matching are available, as well as reflective.
Heat transfer should not be done on certain fabrics that can't be exposed to the high heat from the press. A specific temperature range for the pressing will be specified.
This can be more cost-effective than screen printing for smaller orders.
There are many placement possibilities for heat transfer because you don't have to worry about fitting a hoop anywhere, or having embroidery backing showing.
Instead of standard "flat" transfers, you can order emblems, patches, and other three-dimensional transfers to be applied via the same method.